---
Soccer Breakout
Exclusive FREE Soccer Games
Soccer-for-Parents has done it again - free soccer games!
This game was created by my son, Dustin, so there is no doubt that the soccer game is original and safe to download.
Soccer Breakout is a fun "pong" type game especially suited for young kids or for the eternally young at heart.

I have asked for several enhancements to the game that will be forthcoming in the next few weeks. In the meanwhile, Dustin was anxious to "publish" and let people start playing his soccer game. If you have any suggestions for improvements, let him know.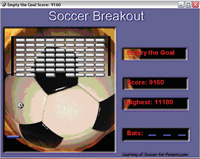 Version 2 of this free soccer game is now out and it's a major improvement! I helped Dustin make the background graphics and he spiced up some of the levels with bonuses and extra lives.
The latest version of Soccer Breakout can be found


HERE
The file is a stand alone executable file that has been zipped to minimize its size.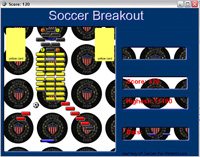 Version 2.0 - 10/30/2005 -

Added a 4th level
Major upgrade to background graphics
Changed the background music. It is a Manchester United sound clip.
Added bonuses.

Version 1.0 – 10/19/2005 – Original release
Other Free Soccer Games
Here is the free soccer game slime soccer. Slime soccer is HOT! Slime sports are a real fad right now for some reason. I must admit that it's a lot of fun. Anyone in the family will have fun with this one. You can even play against each other.
Slam Soccer 2006 is a funny football game in 3D-comic-style, it's open source, and free! It has too many features to mention. Just go check out their website and download the game for yourself.

Other FREE Online Soccer Games
For a complete listing of free soccer games that I have found online, go to my Online Soccer Games Page.
Here are a couple of my favorites.
Power Soccer - Claiming to be the world's best online 3D soccer game, I have to say the preview graphics are quite impressive. Looks like it has a free mode or you can pay for more advanced features, similar to many mobile apps these days.

Mardi Gras SHOOTOUT Online Soccer Game – This game is just what it sounds like – a shootout. You get to alternate between taking the penalty kick and being the goalkeeper. Another good one.

Buying Soccer Games - Use Amazon!
For those of you looking for a cheap solution when buying a soccer game, don't forget to always check amazon: