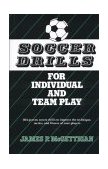 Soccer Drills for Individual and Team Play

by James P. McGettigan
Review by Eric Blommer
True, this is a drill book but it is not simply a random collection of drills and games with cute names. Rather it is a carefully chosen selection of drills that strive to refine players existing techniques and put them into the context of game situations. Because of this higher level focus I rate this book as better suited to intermediate or advanced coaches working with players 12 or older. The author is a college coach and the subtle sophistication of the drills reflects this. At first glance the drills seem fairly simple and common. Upon closer inspection you realize that they are actually combining multiple skills into patterns of play that are very useful in developing a team style of play.
The whole concept of patterns is worth a short diversion here. It is true that soccer is not like basketball or football where the coach devises a playbook that the players memorize. However, the play of high level teams is not purely random. If you study carefully, you will notice that certain passing and moving sequences occur repeatedly. These movements are known as patterns of play. The theory here is that if you extract these patterns and teach them to your players they will raise their play to a higher level. The point being, that these patterns provide good solutions to common situations.
That said, we now return to the book. This book presents its drills as basic patterns. So the players not only refine their skills but also develop good habits of movement. I know drills have developed a bad reputation in current coaching circles but they do serve a valuable purpose. The purpose is to provide numerous quality repetitions to the point that the actions become automatic. The modern game is too fast to allow a lot of time for thinking. The author clearly states that the drills should not consume more than a quarter of your practice time. If this rule is followed the collection of drills in this book can really help take your team to the next level.
Other Details
Paperback: 240 pages ; Dimensions (in inches): 0.86 x 9.32 x 6.24 
Publisher: Parker; (January 1987)
ISBN: 0138153094
Table of Contents
Skill Drills 
Passing, Receiving, and Controlling 

Heading 

Dribbling, Feinting, Screening, Rhythm Changes, and Dribbling Tricks 

Shooting 

Defense and Tackling 

Goalkeeping 

Basic Patterns 

Moving Passing 

Small Group Passing 

Special Situations 

Corner Crossing and Corner Kicks 

Throw-in 

Direct and Indirect Free Kicks 

Training Games 

Small-Sided Games and Team Games
---
Soccer-for-Parents

›
Soccer Mom
›
Soccer books
› Soccer Drills for Individual
---
Like this page?