Soccer Training Aids
The Road to Improvement
Soccer training aids are NOT a requirement.Let me say that up front. I don't want to be accused of saying otherwise. The best training comes from the game itself.
Juggle the ball. Dribble the ball.
PLAY SOCCER!
There are times, however, when soccer training aids can be helpful for your child's development.
Soccer Cones
Buying small soccer cones to me is a "no brainer". If your yard is too small, take them to the park. They are great for ball handling practice. Here is a picture of a set: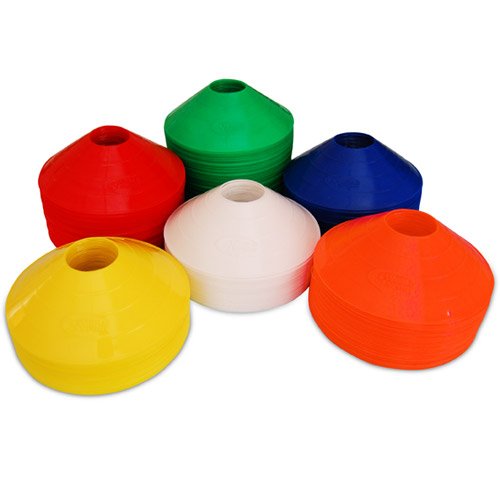 If you can't think of ways to use them in soccer training, other people have done that for you. Go to my free soccer drill page for some ideas and resources. There are also plenty of great training ideas in book and video resources. 


Kicking Aids

Get a soccer rebounder.  These devices allow a child to practice on their own and get a huge number of touches on a ball in a short amount of time.
A rebounder too expensive?  I hear you.  If you have a basement, clear out a corner and let them kick against the basement wall.  Total cost?  FREE!
Don't have the space or money for a soccer goal? Consider a kicking aid. These are devices that attach to the soccer ball and allow a player to work on various kicking/foot techniques without having to retrieve the ball, a really good idea for soccer training. 

The best kicking aid I have come across is the SKLZ Starkick 

My son has one and I will write a personal review of it soon. Signup for my free newsletter and I'll send you the review when it comes out.



Other Soccer Training Aids

If you have a soccer goal another idea for a training aid is a set of targets. You can make your own out of cardboard or cloth and attach them to the goal netting. Remember I'm cheap!

Other ideas:

MLS 6-Foot x 4-Foot mesh soccer shooting target - of course you need a goal for this one.

 - Improve Your Soccer Skills, a book from Amazon.com
Here's another idea. Do a search on Soccer Skills at Amazon.com! Their selection is unbeatable!

Remember, the very best soccer training is to


Play Soccer!
---
Soccer-for-Parents

›
Equipment For Soccer
› Soccer Training
---
Like this page?